Staff
Our dedicated staff members are here to provide support, compassion, and information to help you through your journey of grief and the celebration of your loved one's life.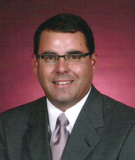 Brian J. Schmitz
Brian was born and raised in Nauvoo, Illinois, the son of Bob and Sue Ann (Sheridan) Schmitz. He is a 1991 graduate of Nauvoo-Colusa High School. He received his mortuary science degree from Carl Sandberg College in 1997. Brian married Lyndsey Markey, they are the parents of Nolan and Dylan and reside in the former Carl and Martha Link family home in West Point. Which prior to 1980 served as the Link Funeral Home.
Brian began mowing the lawn at the Lamporte Funeral Home in Nauvoo in the seventh grade. In 1988, at the age of fifteen, Brian began assisting with funerals in Nauvoo. In 2000, he began working for Hofbauer Funeral Homes in Donnellson and Farmington, which he later purchased along with the Link Funeral Home in West Point. In 2016 a new office building named "Schmitz Tribute Center" was constructed in West Point. It is the home of Three Rivers Crematory and has an indoor/outdoor monument display to assist families in monument selections. In 2018, Brian and Mitch Beals, established Schmitz - Banks & Beals Funeral Home of Nauvoo, Illinois.Brian is a licensed funeral director in Iowa and Illinois and a certified crematory operator. He is a member of St. Mary of the Assumption Catholic Church in West Point. He serves as fire chief of West Point - St. Paul Community Fire and Rescue. He is a director for the West Point - St. Paul Fire Board and 501C3 Committee, West Point Utilities, Calvary Cemetery, West Point Athletic Club, Carl Sandberg Mortuary Science Advisory Board and the West Point Veterans Memorial. He is a member of the West Point Knights of Columbus, the Gallitzin Assembly Fourth Degree Knights of Columbus, West Point Community Club, The Riverview Sportsman, Nauvoo Historical Society and the Fort Madison Elks and Moose Clubs. Brian was the first student to be nominated and elected to Carl Sandburg Mortuary Science Advisory Board. He was awarded "Firefighter of the Year" in 2014 and in 2016 he was "Grand Marshal" of the West Point Sweet Corn Festival Parade.
Brian enjoys gardening and helping his family on the farm.