Staff
Our dedicated staff members are here to provide support, compassion, and information to help you through your journey of grief and the celebration of your loved one's life.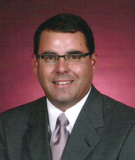 Brian J. Schmitz
Brian was born and raised in Nauvoo, Illinois. He attended Southeastern Community College, and graduated from Carl Sandburg College with a degree in Mortuary Science. He moved to Fort Madison in 2000 to work as a funeral director for King-Lynk & Hofbauer Funeral Homes. Together with Jason Lynk, he purchased Hofbauer Funeral Homes in Donnellson and Farmington in December 2002. At that time he moved to Donnellson and resided above the funeral home. He purchased the Link Funeral Home in West Point in 2005. He moved to the former home of Carl & Martha Link and Maurice & Ann Link in 2008 and still resides there with his new wife Lyndsey Markey formerly of Fort Madison, Iowa. This home was the Link Funeral Home prior to 1980.

Brian began mowing grass at Lamporte Funeral Home in Nauvoo in 7th grade, where he worked through the ranks to manager/funeral director before moving to Fort Madison. He is the current owner/Funeral Director of Schmitz Funeral Home, Monuments and Crematory in Donnellson, Farmington, and West Point. On September 15, 2011 Brian married his wife Lyndsey Markey. She is the daughter of Dave and Linda Dingman of Fort Madison, Iowa and Tony and Linda Markey of Dallas City, Illinois. Brian and Lyndsey are the proud parents of their son Nolan.

Brian is a member of St. Mary's Catholic Church in West Point, past parish council member, serves as sexton of the Calvary Cemetery and is a member of the Calvary Cemetery Board, he and his wife Lyndsey served on the Altar and Rosary Committee for the St. Mary's Catholic Church. Brian is a board member of the West Point Utilities and the West Point Athletic Club, he is Past Grand Knight of West Point Knights of Columbus, Gallitzin Assembly 4th Degree Knights of Columbus and is a Lieutenant on the West Point Volunteer Fire and Rescue Department. He was named firefighter of the year in 2014. He is also the 1st Student to be nominated and elected to Carl Sandburg Mortuary Science Advisory Board in Galesburg, Illinois. Brian also serves as a Lee County Economic Development Director, on the West Point Community Club, Iowa Funeral Directors Association, Tri State Funeral Directors Association and the West Point Veterans Memorial Committee. He remains active in farming with his cousins near Nauvoo, Illinois.
The Schmitz's are proud of the communities they serve and look forward to serving the needs of these communities for many years to come.